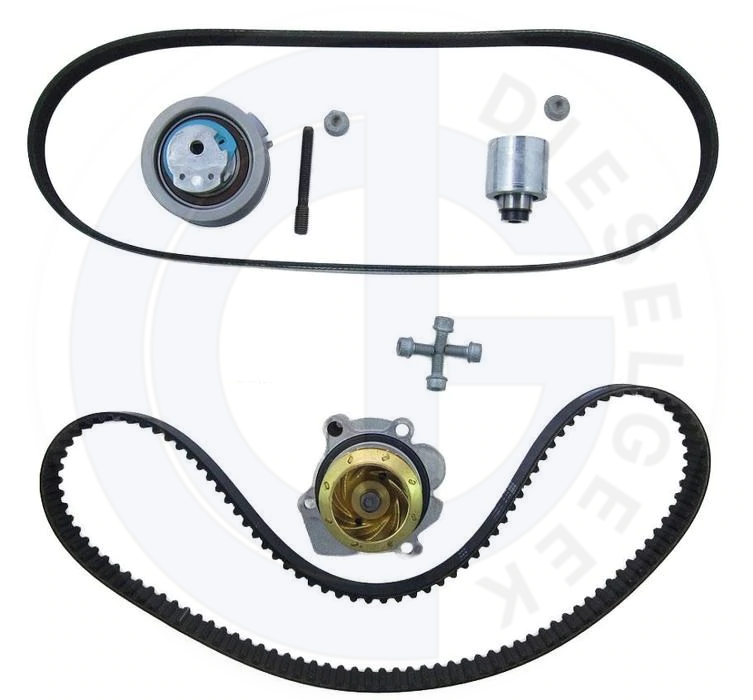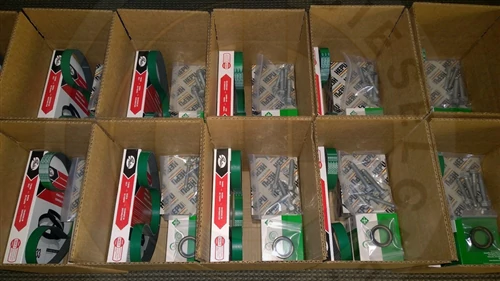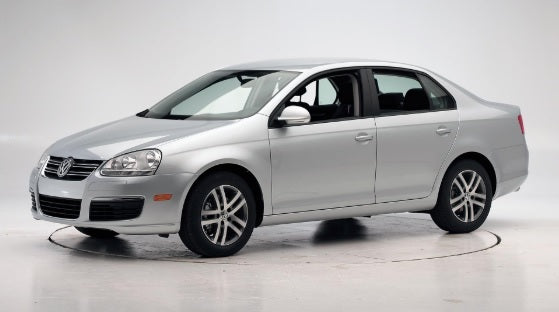 Deluxe BRM Timing Belt Kit for 2005.5 & 2006 Jetta TDI (MK5 chassis)
 yes, in stock
 For the North American market, the "BRM" engine was used starting in mid-2005 (late 2005) and all 2006-2007 MK5 Jetta TDI. This is the newer body style Jetta pictured to the left. The 7th and 8th digits of all MK5 Jetta TDI VINs are 1K. Our 2006 Jetta TDI timing belt kit is the most complete timing belt set with every part you need for the job. If you are planning a DIY replacement consider the specialty tool set sold separately. <LINK> We have years of experience supplying TDI drivers with the most complete timing belt package on the market and we look forward to helping you save time and money with one of our kits!

These cars have a timing belt interval of 100,000 miles that is retained with the use of these parts.
Why our kit is better:
We buy our timing belts, serpentine belts, rollers, and tensioners directly from the OE manufacturers so we have the "freshest" stock with the least amount of handling.
We only offer Tier 1 OE supplier brand parts in our kits. Zero aftermarket SKF or GMB rollers or tensioners for complete peace of mind. 

You save at least an hour of time when using our

 

Pro Method

 

to change the timing belt.
We buy all of the engine mount bolts from the VW dealer. No cheap substitutions are made.

We only offer proven Hepu brand water pumps with steel impellers that will never separate from the shaft like plastic impeller pumps.
Our team has been selling this timing kit since 2001 and our finely honed packaging system means the parts are delivered to you in perfect condition.
What you get:

038 109 119P Gates Timing Belt
038 109 243M Litens Timing Belt Tensioner, OE brand
038 109 244J INA Timing Belt Idler roller, OE brand
045 121 011H Hepu Water Pump with included o-ring seal and high-flow brass impeller
038 109 454A Always-replace 8mm shoulder nut for 243M belt tensioner, OE from the dealer
N 015 083 11 Always-replace 8mm shoulder nut for 244J idler roller, OE from the dealer
N 909 055 02 New OE stud for timing belt tensioner (See Pro Method video below.)
N 103 036 03 Four OE replacement harmonic balancer/crank bolts, OE from the dealer
03G 903 137B Gates Green Stripe Serpentine Accessory Belt, the only accessory belt designed to last for 100,000+ miles!

Pro Method of servicing timing belt: We do not supply engine mount bolts with this timing kit since, like professional installers, you can change the belt easily without removing the engine mount. Doing the belt change without removing the engine mount is faster, much simpler and less risky for you or your mechanic (if they are unaware of the method). The secret trick is to remove the tensioner stud along with the tensioner. The Pro Method video shows you how. We provide a new OE stud and nut with this kit since you might damage the threads of the old stud upon removal

Everything you could possibly need for the job! Click here for third party BRM timing belt replacement procedure.
Add a Metal Nerd timing tool set to your purchase and get free ground shipping!