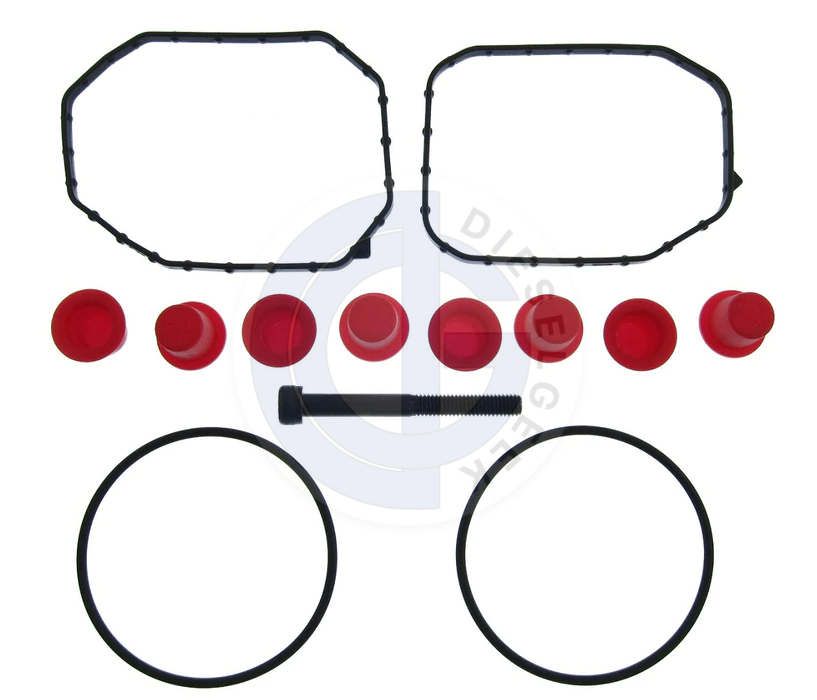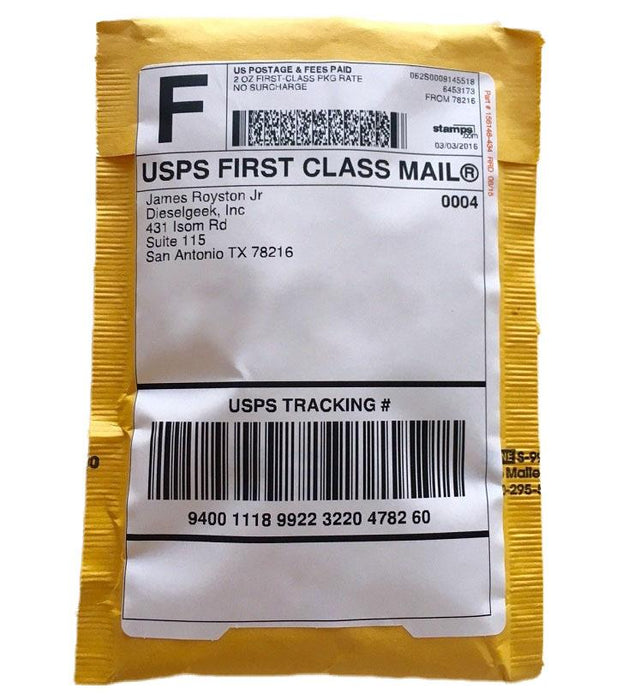 Deluxe Injection Pump Seal Kit for TDI
In stock and shipping now!
All of the TDI pump seals you will need in one package.

Finally, all of the best TDI pump seals you will need in one convenient time and money saving kit! This kit includes the upper and lower quantity adjuster seals (shown at top). Along with the QA seals are the two round Viton seals for the pump head (shown at bottom). We include two pump head seals in case you pinch the first one on your first attempt. It happens sometimes but no worries, we've got you covered! And to keep dirt out of your pump and injectors we include eight plastic caps to cap the four injector lines and four pump delivery valves when you have the system open. The black Allen screw is included so you can limit the outward travel of your pump head when changing the seal. Super convenient!  
Kit includes the three most commonly needed seals to reseal all leaking injection pumps on the following North American spec cars:
1996-1997 Passat TDI
1997-1999 Jetta III TDI
1998-2003 New Beetle TDI
1999.5-2003 Golf TDI
1999.5-2003 Jetta TDI
Install: Replacement of the two rectangular quantity adjuster seals requires the Metalnerd MN3001 anti-tamper socket which is available here. Words of wisdom: To see how to successfully replace the quantity adjuster seals you must read this thread on TDI Club! Read it! The "JB Weld trick" is a time-proven safe method if you are not a seasoned pro at pump seal replacement. If you are a professional and have VCDS software then you probably don't need to read it. Please note that if one or both of the quantity adjuster seals are the only seals leaking then you should change them first and then get the car running again. If anything goes wrong it will be much easier to diagnose if you haven't changed the pump head seal at the same time. If the pump stays dry after the quantity adjuster seal swap then you don't have to change the pump head seal until it starts leaking. You can if you like but the jist of this statement is that head seals and quantity adjuster seal changes should be tackled as separate jobs if only one of them is leaking.  
For those of you who are sticklers for details, the torque spec for the 6mm Quantity Adjuster screws is 7-10 Newton Meters. Gutenteit works, too. Just remember that you are tightening steel screws into an aluminum pump body.
US shipping:  Get free shipping when purchased with the MN3001 socket (available here).  We also offer and highly recommend $7.99 FedEx 2 Day shipping on this item alone if you are in any sort of hurry to get it.  Slower US Postal Service shipping is around $3.00.  We ship Monday through Friday from Colorado except on holidays.   
International shipping:  USPS shipping is currently suspended due to system backlogs. In these uncertain times we recommend the slightly more expensive but much faster FedEx International Economy® service. FedEx will likely collect local taxes upon delivery.  Also, for Canada, the new USMCA trade agreement will reduce taxes and duties on this item.