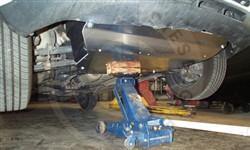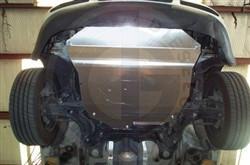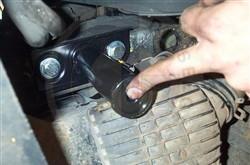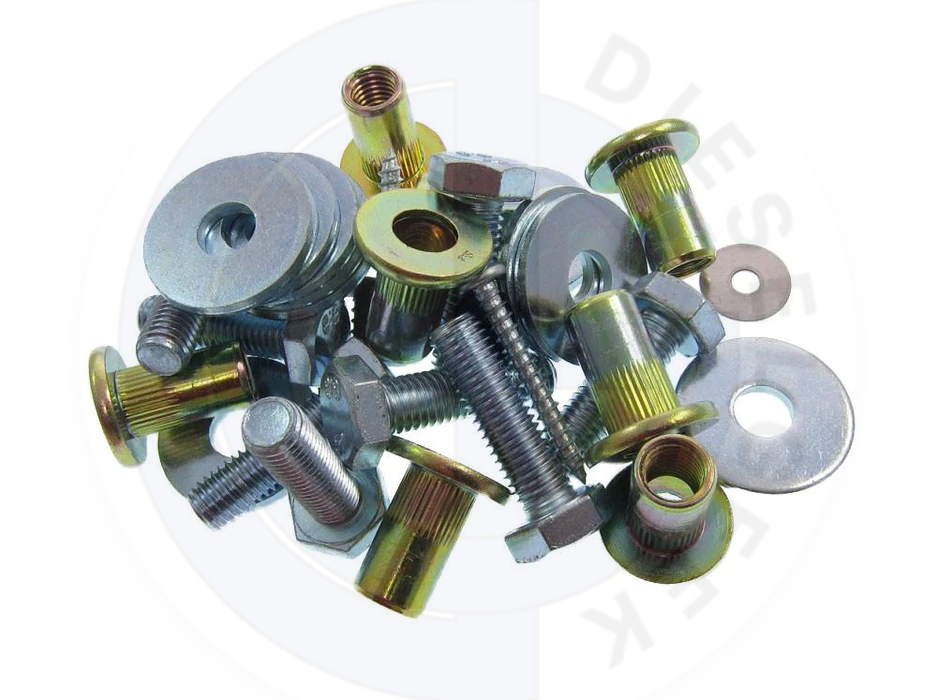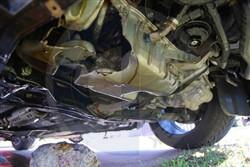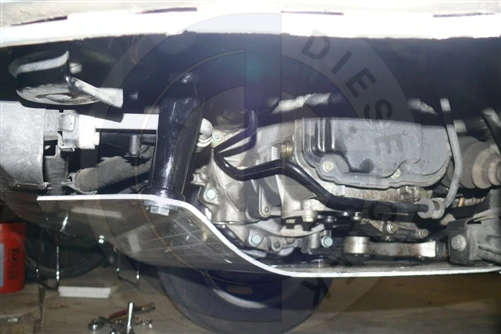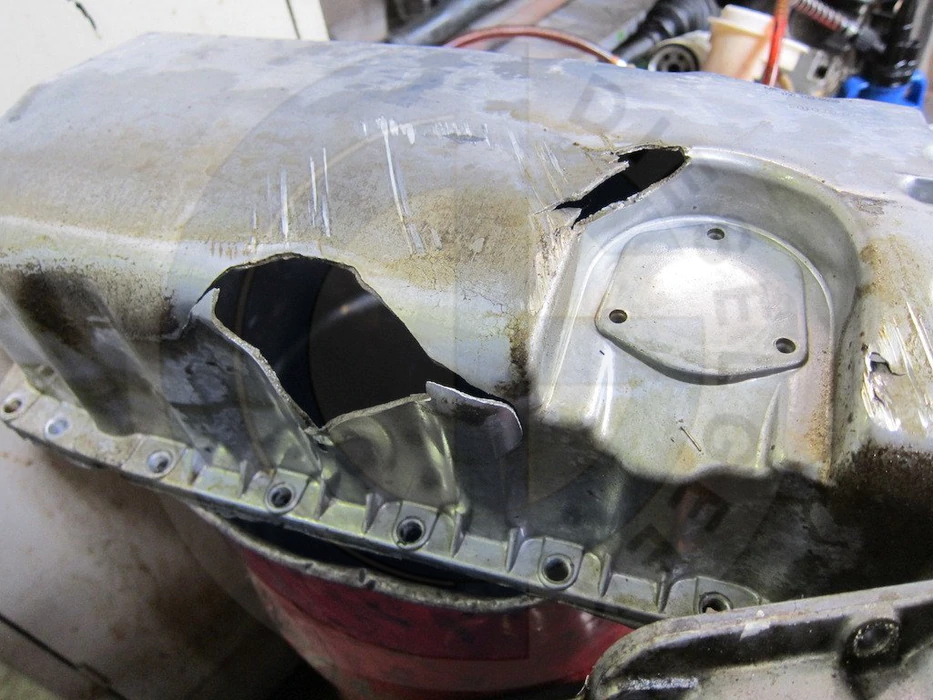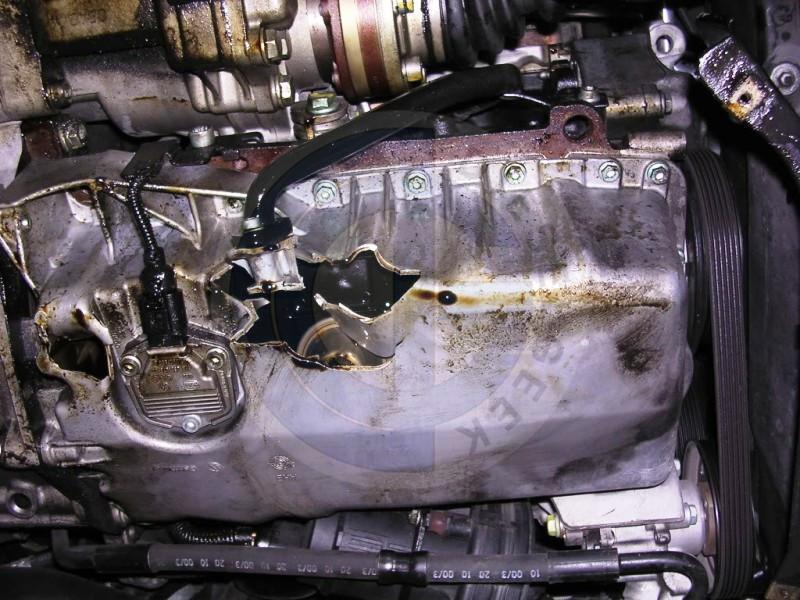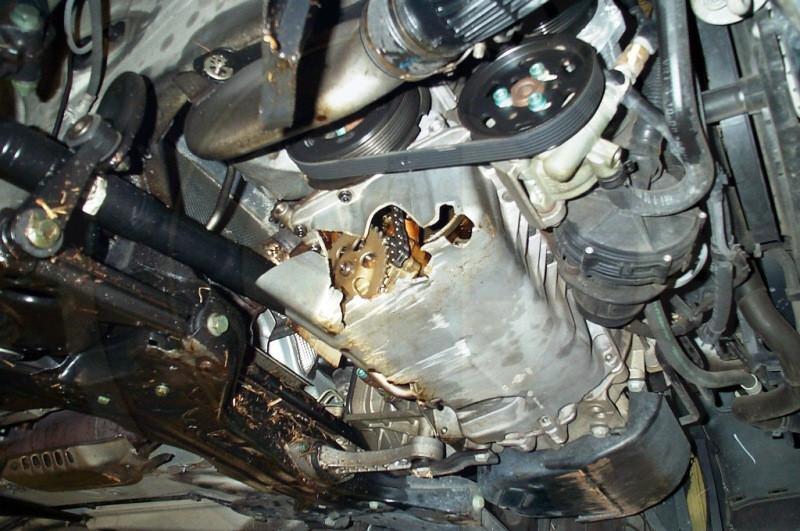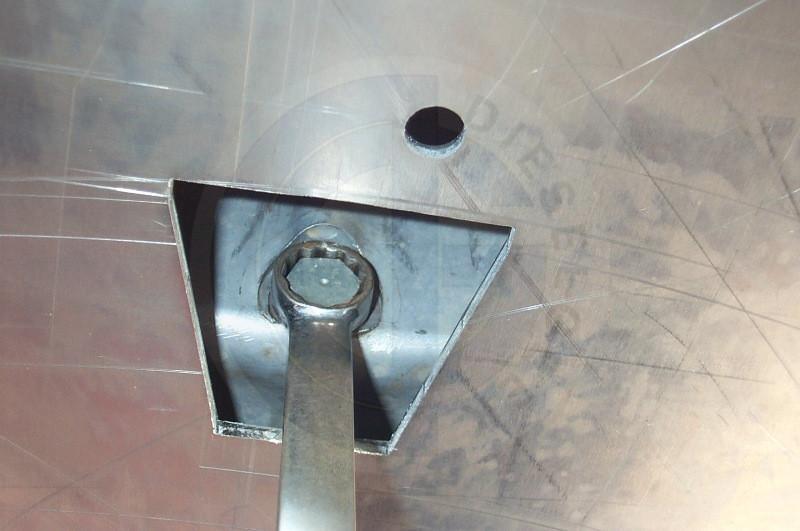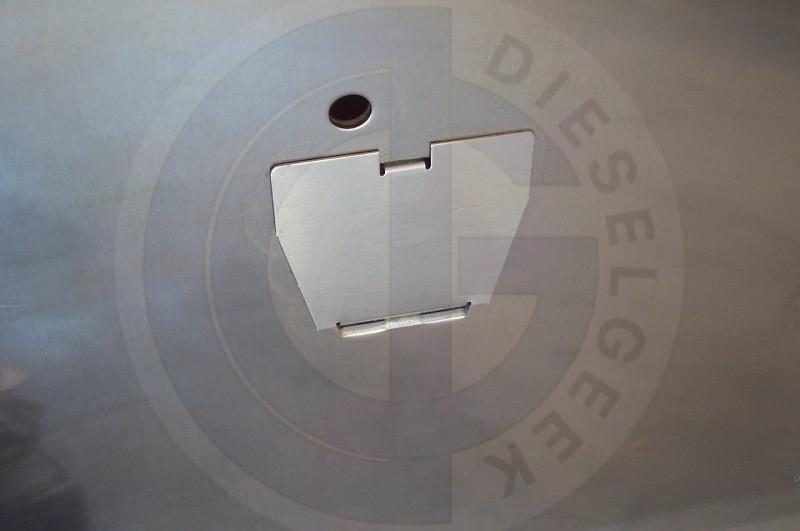 MK4 Panzer Plate Aluminum Skid Plate Kit
  Many MK4 engines have been destroyed by debris putting a hole or a crack in the aluminum oil pan causing the subsequent loss of oil and oil pressure. Our heavy duty aluminum Panzer Plate kits protect all of the parts in the bottom of the engine bay, including the cast aluminum oil pan, a/c compressor, radiator, condenser, transmission, and rear subframe. These items, and especially the very thin cast aluminum oil pan, can be easily damaged by road debris, ice chunks, and minor off-road excursions. You can see pictures to the left of the damage our skid plate protects against. Also, as you know, Golf, Jetta and New Beetles are very low to the ground and the front suspension is relatively soft which causes the cars to bottom out frequently. Damage often occurs when bottoming out. In addition, the plastic belly pan/splash shield that comes with these cars is often damaged. A replacement factory plastic belly pan currently costs up to $329.78 for the New Beetle TDI. Why replace it when you can buy a highly protective aluminum skid plate? Installing our hefty .190" inch thick aluminum skid plate will help you avoid costly repairs and give you peace of mind that your engine is protected!  

  Free Fedex Ground shipping to lower 48 state domestic USA addresses. Shipping to Canada is around $30. HI and AK are excluded from Flat Rate / free shipping.
What it fits
  The MK4 Panzer skid plate fits all 1998-2006 MK4 Jetta, Golf, GTI, GLI, R32 and all 1998 through 2010 New Beetles, regardless of engine or transmission. This kit also fits all 2007-2010 City Golf and City Jetta in Canada and Jetta Clasico in Mexico up through 2014.

What about oil changes? 

TDI: Panzer Skid plates are punched with an easily removed "keystone" shaped oil drain plug access window. If removed, this hole will allow you or an oil change technician to easily drain the engine oil from the oil pan without removing the plate. We offer a snap-in aluminum cover for the removed oil drain window for a small additional cost. Alternatively, if you buy a "Pela 6000" or "Hydro-Turf oil extractor" for around $55 you can change your oil without getting under the car. The extractors may be purchased online to allow you to suck all of the used oil out of the dipstick tube. They really work.

Gasoline engines: Since the oil filters on these engines are mounted low on the engine and face the ground it is necessary to remove the skid plate to change the oil filter. This means there is no good reason to order the plate with the oil drain knockout removed if you have a gas powered car. Removal of the plate is only a five minute affair and the plate itself only weighs 17.25 pounds. You may order the plate with the knockout removed but the knockout only works for a four cylinder engine. The drain hole was designed for a 4 Cylinder TDI and is in the wrong place for a 5 or 6 cylinder.   

All about engine bay splash shields: The side plastic splash shields keep water and dirt out of the engine bay and also reduce engine noise. The Panzer Plate has it's own steel structure and will work without them but side panels are nice to keep water and dirt out of the engine bay. Also, you do not need to buy new engine bay side panels if your stock plastic engine bay side panels still have the two middle screw holes in the bottom flange nearest to the ground. You can modify your existing plastic splash shields in as little as 15 minutes by simply cutting them with a hack saw as shown in this pdf guide. If you are missing your side panels or if they are too damaged to be used then you can order the Deluxe Panzer skid plate with metal Full Metal Jacket side panels.

Instructions links for the installing the Panzer Skid Plate kit are here. The video below shows the rivnut install procedure. This is the most technical part of the install.
Made in USA!