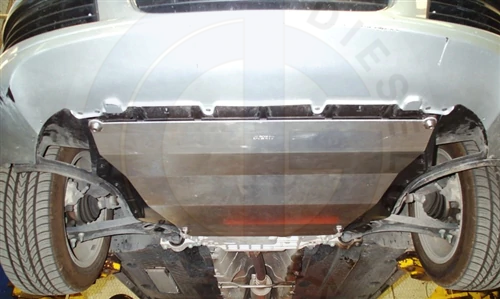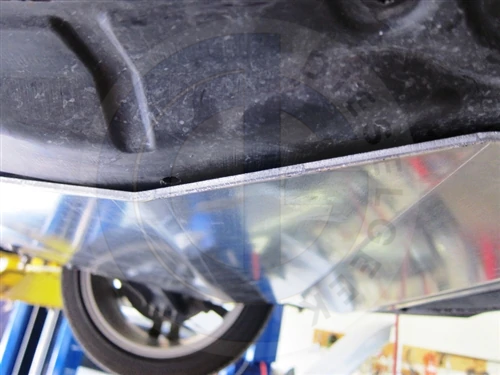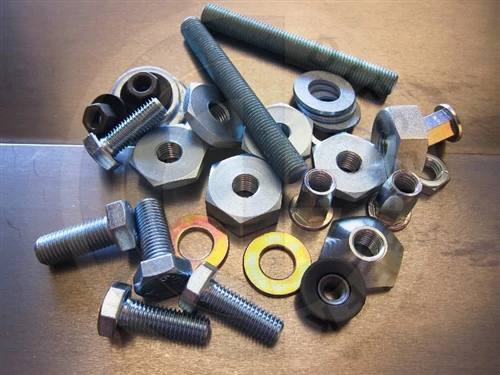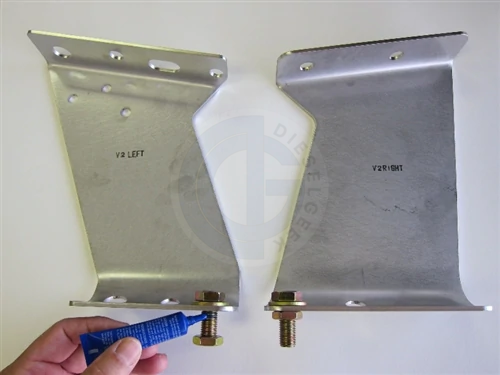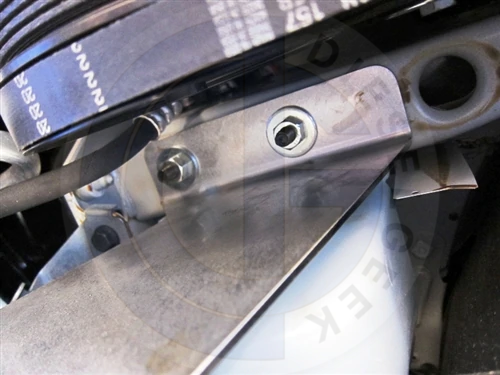 MK5 & MK6 Panzer Plate Heavy Duty Aluminum Skid Plate Kit
 Finally, the peace of mind you've been waiting for!


 The Panzer Plate protects your soft cast aluminum oil pan and soft aluminum subframe from the many perils of everyday driving such as exploded truck tires, dead animals, ice chunks, mountainous speed bumps, parking curbs and raised manhole covers which have become so common in construction areas. 
Fitment:
2006-2009 Rabbit
2005.5-2010 Jetta sedan
2006-2014 GTI, R32
2009-2014 Jetta Sportwagen 
2010-2014 Golf, Golf R

Does not fit

2011+ Jetta

sedan
 
The Details: 
The Panzer Plate features a sturdy .190 inch solid aluminum bottom plate and 10 gauge (.134 inch) stainless steel mounting brackets.
Removal and reinstallation is as easy as removing and replacing the four giant nuts holding the skid plate to the car.
The Panzer Plate system utilizes your factory sound dampening pan so your low factory noise levels are maintained. 
Since the Panzer Plate mounts tight up against the bottom of the plastic belly pan it does not reduce ground clearance at all!
The Panzer Plate only weighs 22 pounds installed.
The skid plate mounting system will not interfere with normal service procedures such as timing belt changes.
The Panzer requires no drilling or permanent modification to the vehicle. It's a true bolt on!
Factory coated hardware is used in critical locations such as the rear subframe studs. The giant 12mm anchors at all four corners keep the skid plate solidly in place for heavy strikes!
Panzer Plates are computer designed and manufactured to ensure a great fit and good looks!
Made in USA!
Please Note:

If you have a 2009-2014 GTI or GLI with a CBFA engine code only, you have an air pump which is in the way of the front driver's side Panzer mount. Your engine code is printed on top of the timing cover. ( Click here for a picture of a CCT engine code sticker.) If you have the CPPA engine you can notch your air pump bracket with a hacksaw and then mount it between the Panzer mounting bracket and the frame rail.
Oil changes:
TDI diesel and 2.0 TFSI gas: An oil extractor such as the Pela 6000 oil extraction device (or similar) may be purchased from oilchangekits.com to allow you to suck all of the used oil out of the dipstick tube. Filter change: The TDI and 2.0 TSI oil filter housing is at the top of engine bay and does not require access from below the engine bay. You can see that it is very easy to fully eliminate the need to get under the car at all for TDI or 2.0 TSI oil changes! If you prefer to get under your car during oil changes, removal of the Panzer Plate is only a five minute process and the plate itself only weighs 14.65 pounds.

2.0T, R32 3.2 VR6 and 2.5 five cylinder cars: Due to the fact that the oil filter is at the front of the engine bay and is facing the ground you must remove the skid plate to change the oil filter on these engines. Removal is only a five minute process and the plate itself only weighs 15 pounds.

Shipping:  Free Fedex Ground shipping to lower 48 state domestic USA addresses. Shipping to Canada is around $30. HI and AK are excluded from Flat Rate / free shipping.

Click here for a printable PDF install guide. (Printed instructions are not provided with kit.)