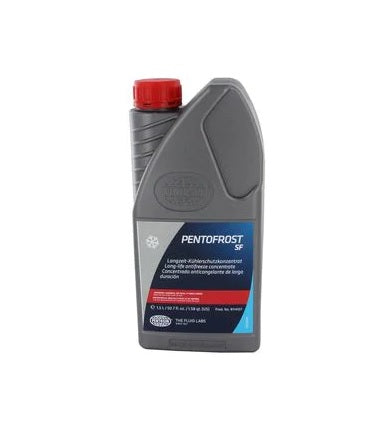 Pentofrost SF Lifetime G12 Antifreeze 1.5 Liter
  Pentofrost SF in Lifetime G12 coolant 1.5 liter bottle. This is the original pink coolant designed to last as long as your car. Total system capacity is about 6 liters. Use a 50/50 mix of this coolant and water. This coolant is compatible with and can be mixed with the newer VW/Audi violet G12+ and G13 coolants.
  Fun fact - Valvoline is the blender and supplier for all coolant sold at Volkswagen Auto Group dealerships in North America. Zerex and Peak are Valvoline brands. 


We no longer sell coolant (but read on)
To minimize shipping cost and complications we recommend sourcing coolant locally 

  Availability of the correct coolant for your vehicle has dramatically improved over the last 20+ years. Viable local options for sourcing this commodity include:
- your local VW or Audi dealership parts department (part number G013A8J1G). This part number is for the updated G13 coolant utilizing glycerine in place of some of the ethylene glycol content for reduced toxicity and environmental impact. G12 coolant is no longer available from VW.
- local branches of major discount auto parts retailers (Autozone, Advance Auto Parts, NAPA, O'Reilly, etc) often stock Pentofrost SF as part number 8114107

- local branches of major discount auto parts retailers (Autozone, Advance Auto Parts, NAPA, O'Reilly, etc) often stock PEAK OET Violet as part number PEV0B3
- local branches of major discount auto parts retailers (Autozone, Advance Auto Parts, NAPA, O'Reilly, etc) often stock Zerex G-40 as part number 861526