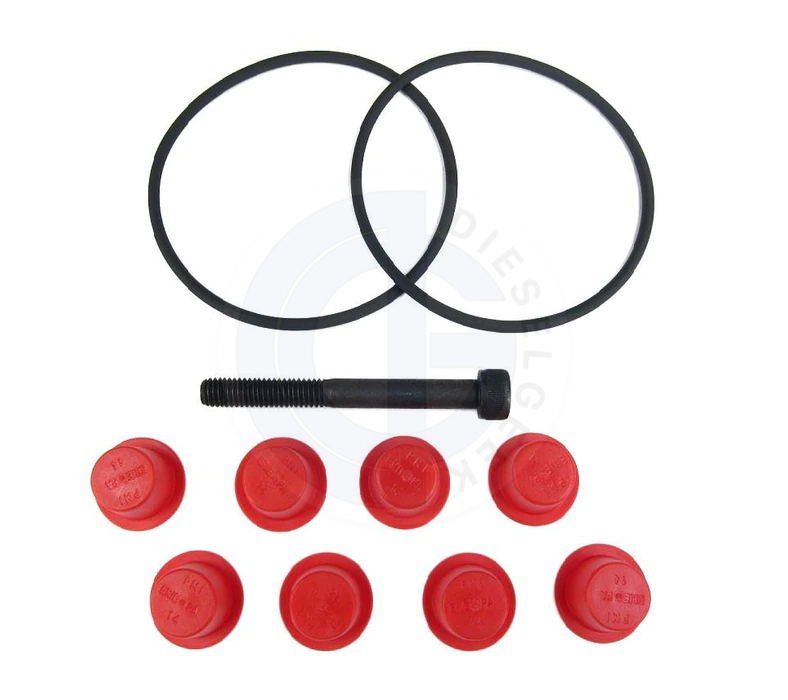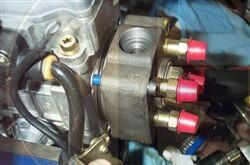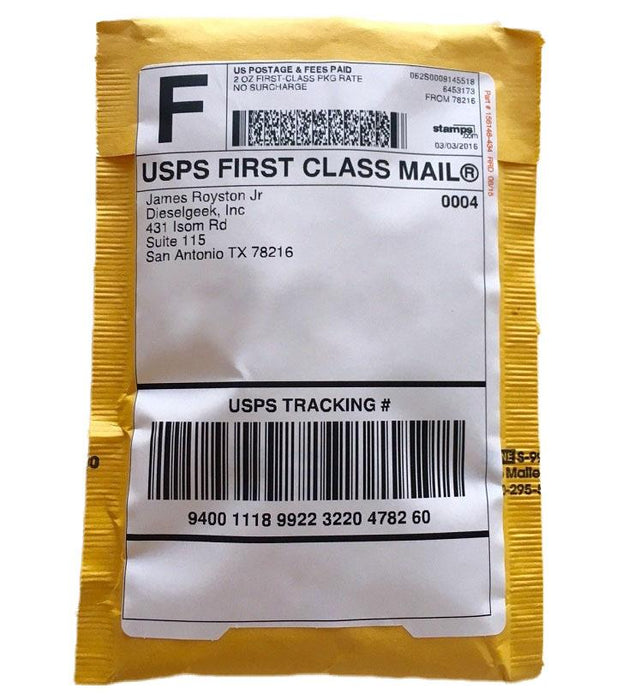 Viton Pump Head O-Ring Seal Kit
This kit is now included in our Deluxe TDI Injection Pump Seal Kit!
Do you have to crank and crank your 1996-2003 TDI to get it started? Do you have a mysterious puddle of diesel on the floor of your garage? If so, you need our Viton head seal kit to get your old car back. Contained in this kit is a pair of o-ring seals in Viton material for the TDI injection pump's cast iron "head". The o-ring goes between the aluminum pump body and the cast iron head and is the fix for a pump that has lost it's prime. These Viton o-ring seals are superior to the green Buna o-ring supplied by Bosch. In addition to the two seals, the kit also comes with one 6mm Allen stop screw and eight plastic dust caps used as dust seals for the four injectors and four output delivery valves on the injector pump. The 55mm Allen stop screw is used to keep you from pulling the pump head out too far during the seal swap. We now provide two o-ring seals in case you damage one on your first try, a real convenience! This o-ring kit fits all 1996-2003 VW TDI injection pumps as well as all other rotary-distributor 'VE type' Bosch injection pumps used on IDI VW, Volvo, BMW, Range Rover, Dodge, Cummins, etc. 

Installation words of wisdom: Please note that if the head seal is the only seal leaking then you should change the head seal first and then get the car running again. If anything goes wrong it will be much easier to diagnose if you haven't changed the quantity adjuster seals at the same time. If the pump stays dry after the head seal swap then you don't have to change the quantity adjuster seals until they start leaking. You can if you like but the jist of this statement is that head seals and quantity adjuster seal changes should be tackled as separate jobs if only one of them is leaking. Click here for the head seal replacement procedure. For those of you who are sticklers for details, the torque spec for the 6mm pump head screws is 10-14 Newton Meters. Gutenteit works, too. Just remember that you are tightening steel screws into an aluminum pump body. 
US shipping:  We offer and highly recommend $7.99 FedEx 2 Day shipping on this item if you are in any sort of hurry to get it.  Slower US Postal Service shipping is around $3.00.  We ship Monday through Friday from Colorado except on holidays. 
International shipping:  USPS shipping is currently suspended due to system backlogs. In these uncertain times we recommend the slightly more expensive but much faster FedEx International Economy® service. FedEx will likely collect local taxes upon delivery.  Also, for Canada, the new USMCA trade agreement will reduce taxes and duties on this item.