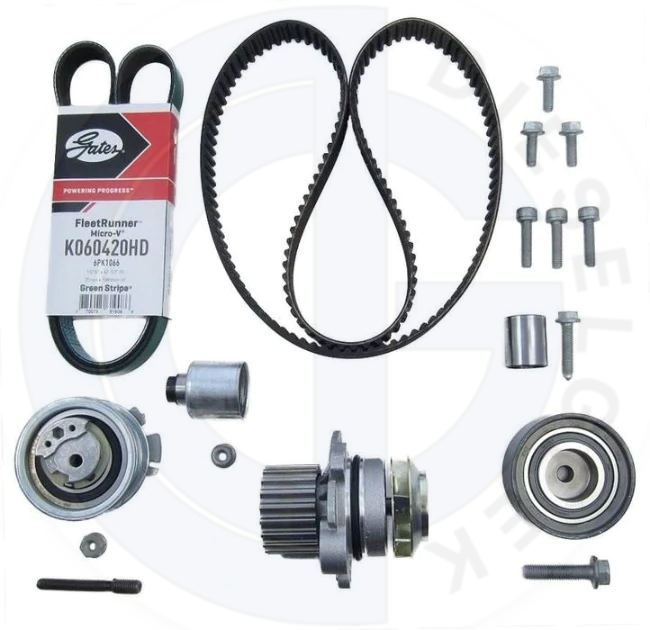 Deluxe Common Rail Timing Belt Kit for 2009-2014 Golf, Jetta, Beetle and Audi A3
Free Fedex Ground shipping in the USA!
yes, in stock.  
BONUS! Receive our full detail video instructions delivered by email free w/ purchase! $39 value!
  Deluxe 18 piece timing belt kit for 2.0 liter VW Common Rail diesel engines found in Golf and Jetta TDI from 2009-2014, Audi A3 from 2009-2014 and 2013-2014 VW Beetle TDI. This CBEA and CJAA timing kit includes every part needed to quickly get the job done right! If you are planning a DIY replacement consider the specialty tool set sold separately. <LINK> Truly Peace of Mind in a box!

Why our kit is better:
We buy our timing belts, serpentine belts, rollers, and tensioners directly from the OE manufacturers so we have the "freshest" stock with the least amount of handling.
You save at least an hour of time when using our

Pro Method

to change the timing belt.
We offer proven water pumps with a steel impeller that will never separate from the shaft like plastic impeller pumps.
All of the hardware included with this kit is OE direct from the VW dealer. No substitutions are made.
We only supply the INA brand tensioner and idler rollers, not the cheaper and lower quality SKF parts found in our competitor's kits.
We've been selling timing kits since 2001 and our finely honed packaging system gets the parts to you in flawless shape.
What you get:

03L 109 119F Contitech Timing Belt
03L 121 011G Hepu Water Pump with high-flow steel impeller 
03L 109 243E INA Timing Belt Tensioner, OE brand
038 109 244J INA Timing Belt Idler roller, OE brand
03L 109 244C INA Timing Belt Idler roller with bolt, OE brand
03G 109 244 INA Large diameter timing belt Idler roller, OE brand
N 106 999 01 New OE Large Roller Stretch Bolt
038 109 454A Always-replace 8mm shoulder nut for timing belt tensioner, OE 
N 909 055 02 New OE stud for timing belt tensioner (See Pro Method video here) 
N 015 083 11 Always-replace 8mm shoulder nut for 244J idler roller, OE from the dealer
03L 903 137T Gates GreenStripe Long Life serpentine belt, the only accessory belt designed to last as long as the timing belt!
N 911 803 01 High Pressure Fuel Pump sprocket bolts x 3
N 107 158 01 Cam sprocket bolts x 3
The
instructional video
is a digital product providing a 90-day streaming subscription to our 2009-2014 timing kit replacement video. Access to the digital content will automatically be granted
by email
once you complete your purchase; so be sure to include your email address at checkout. Simply click the Access Content button in the message you receive. (Photo below.) This will launch a video player on our webstore.
T
he origin email address is 
www.dieselgeek.com <

sales@dieselgeek.com

>
 subject 
Instructional Video from Dieselgeek
. If you don't see it right away, please check Spam or Promotions. 

Pro Method of servicing timing belt: We do not supply engine mount bolts with this timing kit since, like professional installers, you can change the belt easily without removing the engine mount. Doing the belt change without removing the engine mount is faster, much simpler and less risky for you or your mechanic (if they are unaware of the method). The secret trick is to remove the tensioner stud along with the tensioner. The YouTube video below shows you how. We provide a new OE stud and nut with this kit since you might damage the threads of the old stud upon removal.