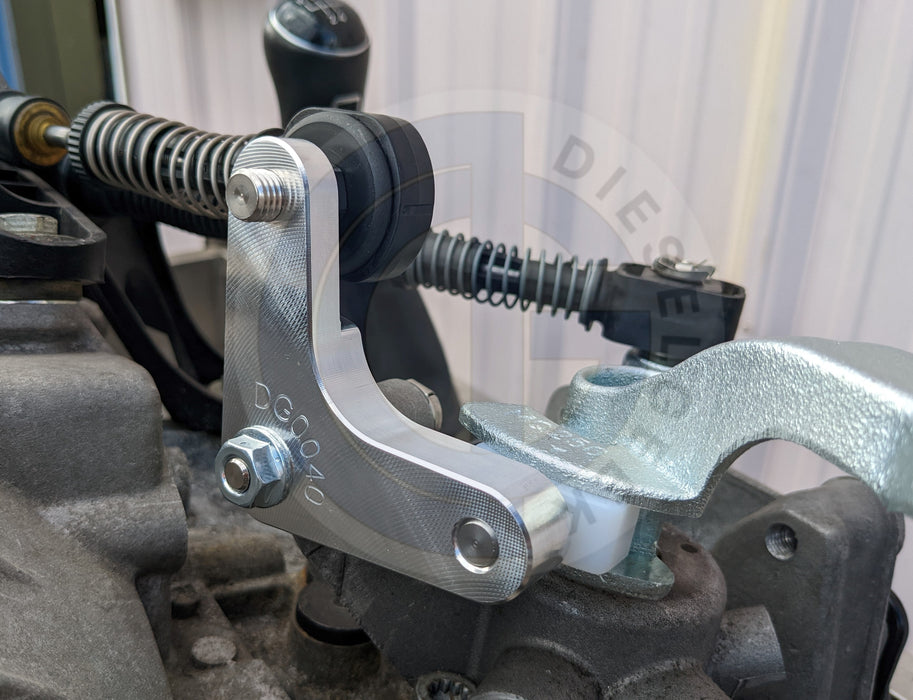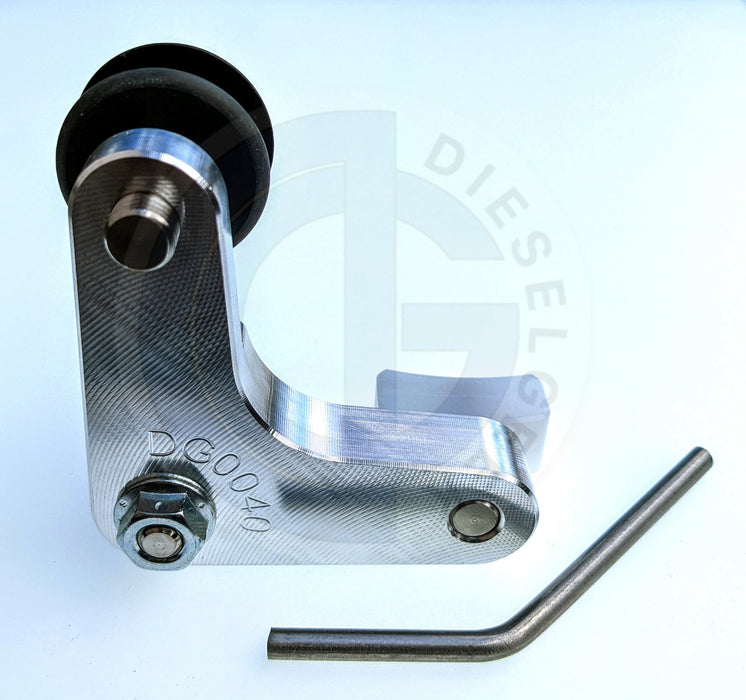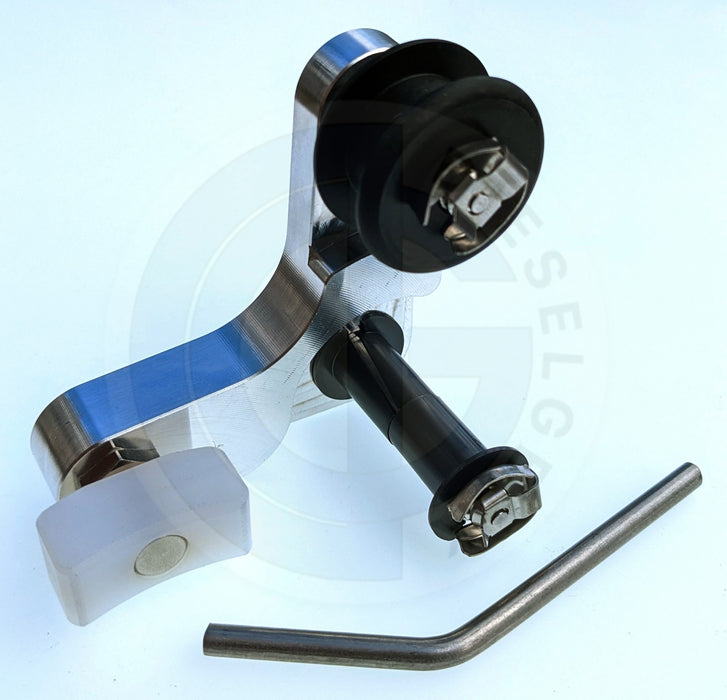 Billet Aluminum Side to Side Reduction Bracket for 2008+ 5-speed cars
Finally, a fix for those seized up plastic side to side brackets.
Volkswagen did a dumb thing. They started using a plastic relay lever on top of the transmission during the 2007 model year. Prior to this it was all metal. The old version had a stainless steel pivot pin running in replaceable plastic bushings which never broke. SO, the cars with the black plastic bellcranks are subject to a point of failure that the earlier cars did not have. It gets even worse if you live where they use road salt to keep the roads clear in Winter. The road salt gets inside the tranny's aluminum pivot tube and corrodes the aluminum to the point that the black plastic pivot pin seizes up. You will notice this as a increasing stiffness when you move the shifter stick left to right in neutral. Eventually it gets hard to shift into first and second gear and getting into reverse becomes dang near impossible. Don't wait for this to happen! This corrosion will leave you stranded and then you will have an expensive, time-consuming repair to deal with. Our billet aluminum side to side bracket kit changes every failure-prone part back to metal with a bulletproof polished stainless steel pivot pin running in high performance pivot bushings.  This is a forever fix to the common issue of the stock plastic VW side to side bracket 1K0 711 202K or 5K0 711 203A either breaking or seizing up into the transmission's aluminum pivot hole. One added benefit is shorter shift throws in the side to side direction.
What it fits: This kit fits all five speed shifters in the US and Canada from mid 2007 onwards with plastic bellcranks. For the rest of the world this kit fits five and six speed MQ250 transmissions. Additionally, the 2019+ US-spec, non-GLI Jetta S and Golf 1.4 and 1.5 TSI turbo gas cars also use the 6 spd version of the MQ250. Owners of these cars can greatly benefit from our kit too! Does not fit 2.0 8V MK6 Jetta. These use the MQ200 transmission. Email us with a VIN if you're unsure. 
What it includes: Kit includes an all metal, billet aluminum side to side bellcrank with machined plastic sliding piece and a pair of Sigsert precision cable end inserts for the stock plastic cable end. A pair of high performance 1J0 711 067L bushings and retaining clip N 908 159 03 is also included as well as our 5mm adjustment pin to readjust your shift cable.  This is a complete, turnkey solution to your 2007 and newer VW shifter problems.
US shipping:  We offer and highly recommend $9.99 FedEx 2 Day shipping on this item if you are in any sort of hurry to get it. Slower US Postal Service shipping is around $4.50.  We ship Monday through Friday from Colorado except on holidays.   
International shipping:  In these uncertain times we offer the slightly more expensive but much faster FedEx International Economy® service. FedEx will likely collect local taxes upon delivery. USPS shipping is currently suspended due to USPS system backlogs.  Also, for Canada, the new USMCA trade agreement will reduce taxes and duties on this item.
Here is an illustration of why you need this part: