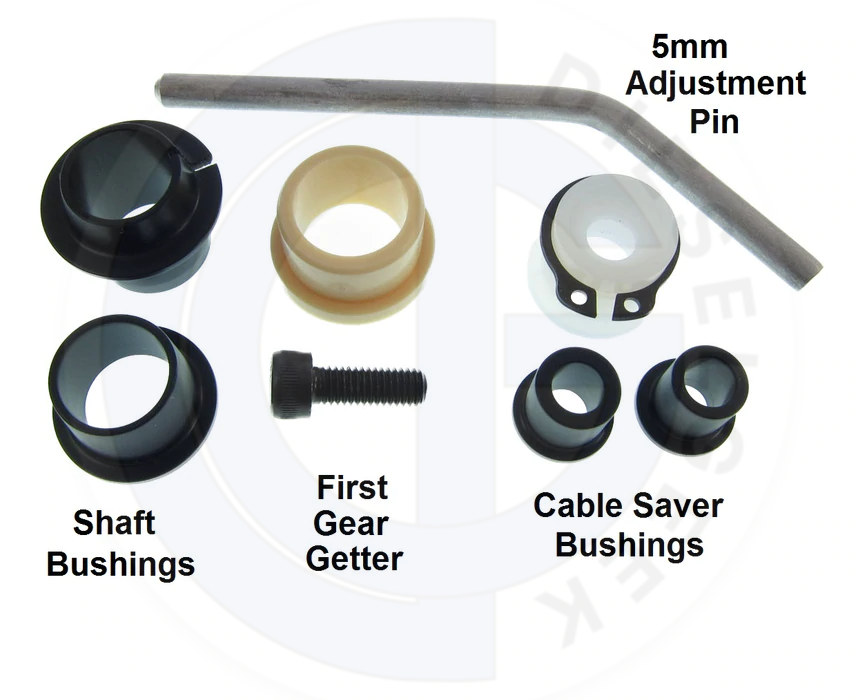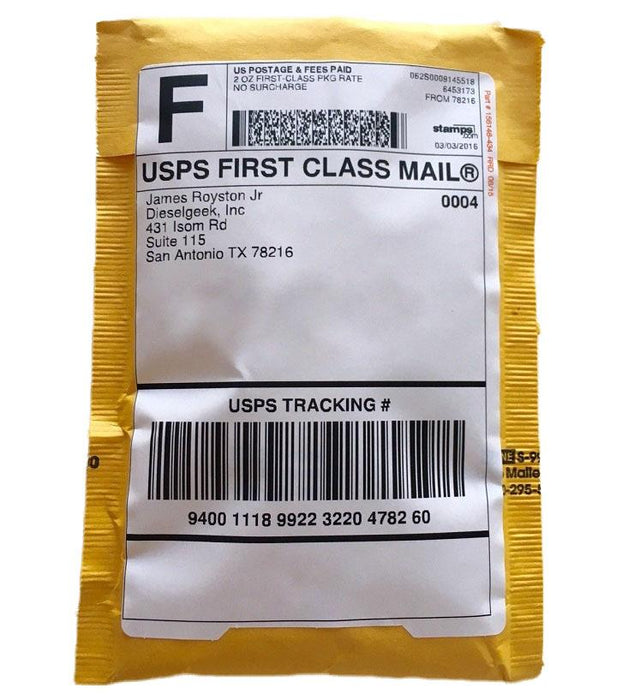 Deluxe MK4 Shifter Bushing Kit
All three cabin-side MK4 shifter bushing kits in one convenient, money saving kit!

If your MK4 Shifter is sloppy you can buy this kit to get everything you need to make it nice and tight again! This kit includes these four products: Dieselgeek First Gear Getter, Cable Saver kit, and Solid Stick SHAFT bushings plus the 5mm VW shifter alignment pin and an extra 5mm Allen screw.  Buying this Deluxe kit saves you over $20 versus buying and shipping each kit individually! If you have a MK4 VW you will need every part contained in this kit. This kit will save you a ton of time and money and is guaranteed for as long as you own your car! 
Please note that the SHAFT bushings in this kit cannot be used on the 2000-2006 Audi TT. Those cars use unique shifter sticks without serviceable bushings. Also note that this kit does not fit 1999.5 Golf/Jetta, or 1998-1999 New Beetle. Follow <THIS LINK> to the applicable Deluxe Bushing kit for those early MK4s. 

Kit fits Gasoline or Diesel models:

2000-2006 MK4 Golf, Golf TDI, GTI, 20th Anniversary and R32
2000-2005 MK4 Jetta, Jetta TDI, Jetta GLI and Bora
2000-2010 New Beetle, New Beetle Convertible and Beetle Turbo S
PLUS all Audi, Seat, and Skoda vehicles that use the same 1J0 711 112E shifter stick as the 2000-2006 MK4 Golf. 
Kit also fits many Euro-spec Volkswagen, Audi, Seat and Skoda vehicles. Just check the product pages for each of the bushing kits contained in this Deluxe kit to see if your car is in the applications list for all three products. The 5mm adjustment pin in this kit fits all cars with a cable type shifter.
US shipping: Get free FedEx 2nd day shipping when you order this kit with the Super Slider!  We also offer and highly recommend $6.99 FedEx 2 Day shipping on this item alone if you are in any sort of hurry to get it.  Slower US Postal Service shipping is around $3.00.  We ship Monday through Friday from Colorado except on holidays.
International shipping:  USPS shipping is currently suspended due to system backlogs. In these uncertain times we recommend the slightly more expensive but much faster FedEx International Economy® service. FedEx will likely collect local taxes upon delivery.  Also, for Canada, the new USMCA trade agreement will reduce taxes and duties on this item.
Shown below is the most important video for identifying points of shifter slop. It applies to every five or six speed VW from about year model 2000 onwards: