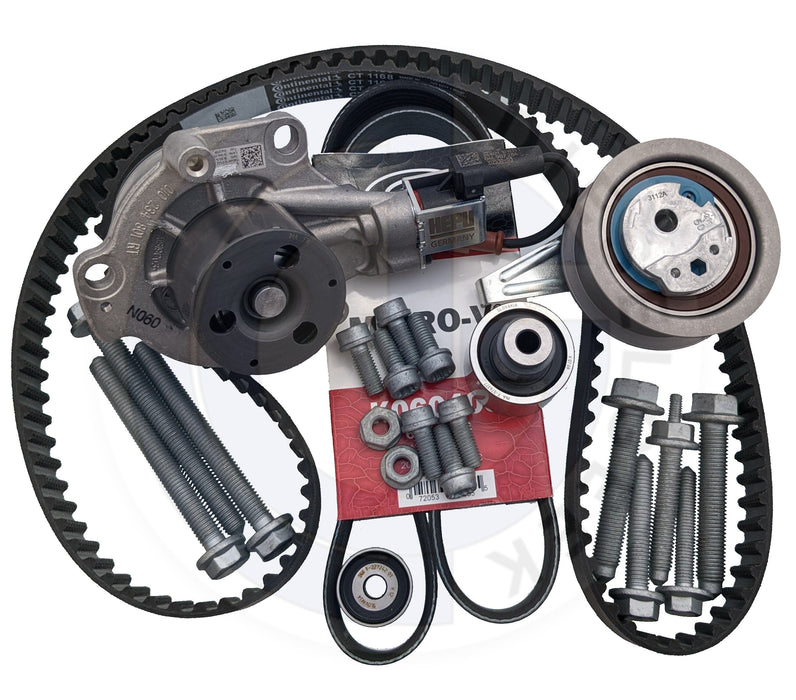 Deluxe Timing Belt Kit for 2015-2016 TDI Golf, Jetta, Beetle, Passat and Audi A3 (EA288)
Free Fedex Ground shipping in the USA!
yes, in stock.  
  BONUS! Receive our full detail video instructions delivered by email free w/ purchase! $39 value! 
  Deluxe 23 piece Timing Belt Kit for the 2015- 2016 Golf, Golf Sportwagen, Jetta, Beetle, Passat, and Audi A3 TDI.  
  All 4 cylinder TDIs In the US and Canada market of model years 2015 and 2016 use either the CVCA or CRUA engine codes. These engines fall within the EA288 family. Our EA288 timing kit includes every part needed to quickly get the job done right! If you are planning a DIY replacement consider the specialty tool set sold separately. <LINK> We only supply INA, IPD, and Litens brand tensioner and idler rollers, not the cheaper and lower quality SKF or GMB parts found in our competitor's kits. A European-manufactured Hepu brand water pump with electronically controlled shroud allows for maximal flow as well as rapid warm up times. Truly Peace of Mind in a box!
Why our kit is better:
We buy our timing belts, serpentine belts, rollers, and tensioners directly from the OE manufacturers so we have the freshest stock with the least amount of handling and time in storage.
We offer proven, OE Brand water pumps 
All of the hardware included with this kit is OE direct from the VW dealer. No substitutions are made.
We've been selling timing kits since 2001 and our finely honed packaging system gets the parts to you in flawless shape.
What you get:
04L 109 119 D Contitech Timing Belt, (Tier 1 OE supplier)
04L 121 011 N Hepu Water Pump,

(

Tier 1 OE supplier)

 w/ electronically controlled variable displacement shrouded composite impeller - 100% identical to the factory water pump

3x N 910 488 04 Water Pump Bolt
03L 109 244 D 

INA Upper Timing Belt Idler roller, (Tier 1 OE supplier)

04L 109 243 S IPD / Litens Timing Belt Tensioner, (Tier 1 OE supplier)

03L 109 244 G 

INA Lower Timing Belt Idler roller, (Tier 1 OE supplier)

04L 260 849 C

  Gates long life serpentine belt
OE Hardware kit
OE Hardware Kit included at no additional cost:
N 912 040 01

  M8x50 motor mount bolt 

N 910 296 02 M10x55 motor mount bolt 

N 107 069 01 M10x55 motor mount bolt w/o stud 

2x 

N 105 524 04 M12x70 motor mount bolt 

N 107 737 01 M10x105 motor mount bolt 

2x 

N 106 995 01 M10x95 motor mount bolt 

038 109 454A Always-replace 8mm shoulder nut for Tensioner 

N 015 083 11 Always-replace 8mm shoulder nut for idler roller 

4x 

N 910 488 04 Harmonic balancer Pulley bolt 
  The instructional video is a digital product providing a 90-day streaming subscription to our EA288 timing kit replacement video. Access to the digital content will automatically be granted by email once you complete your purchase; simply click the Access Content button. (Photo below.) The Access Content button will launch a video player on our webstore.
The origin email address is www.dieselgeek.com <deliveries@skypilotapp.com> subject Instructional Video from Dieselgeek. If you don't see it right away, please check Spam or Promotions.  
Fits the CVCA and CRUA engine codes found in the following vehicles:
2015-2016 Jetta TDI MK6
2015-2016 Golf and Golf Sportwagen TDI MK7
2015-2016 Passat TDI NMS
2015-2016 Beetle TDI 
2015-2016 Audi A3 TDI