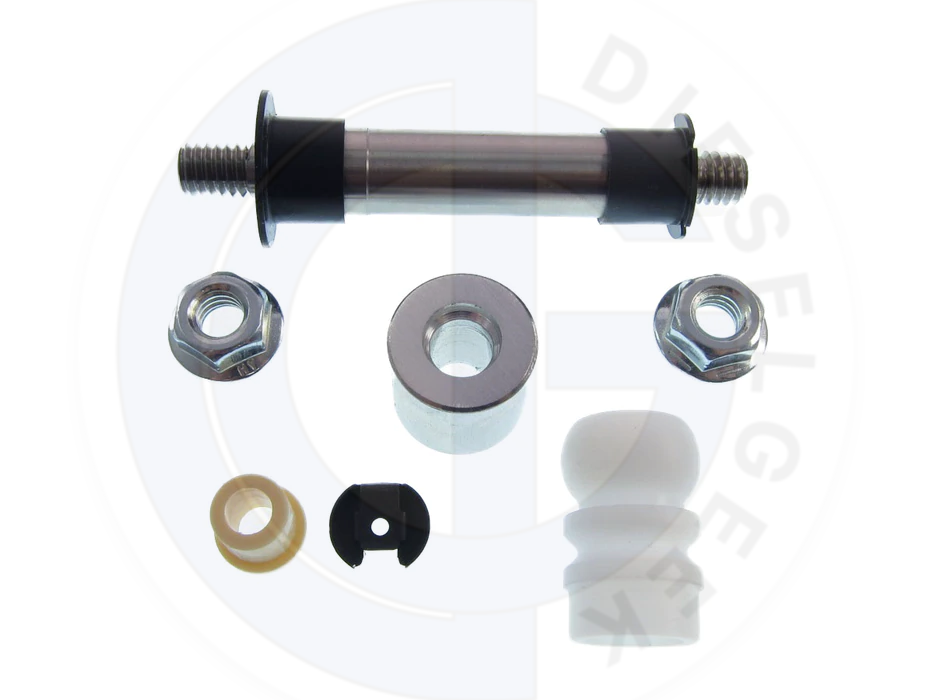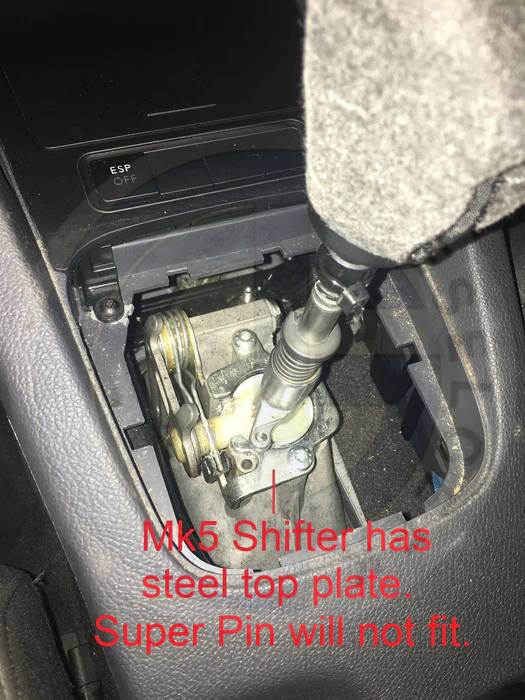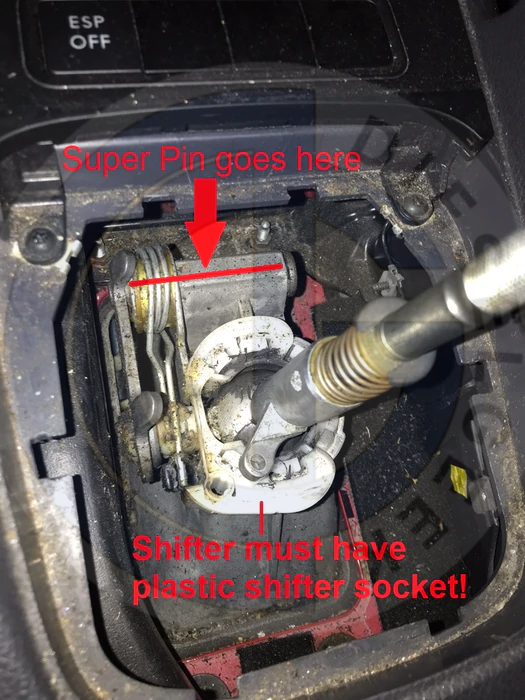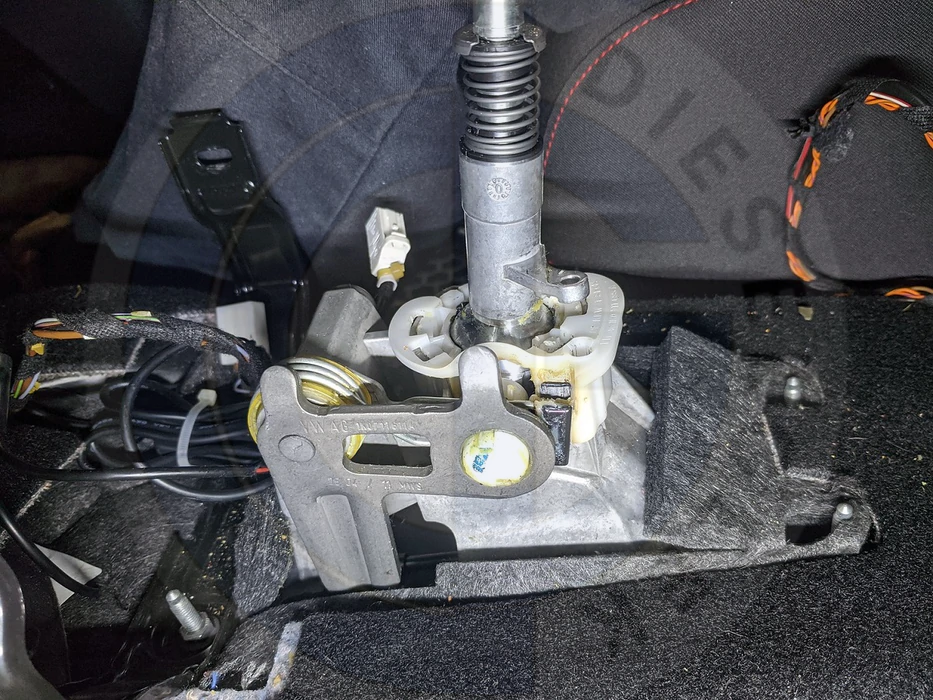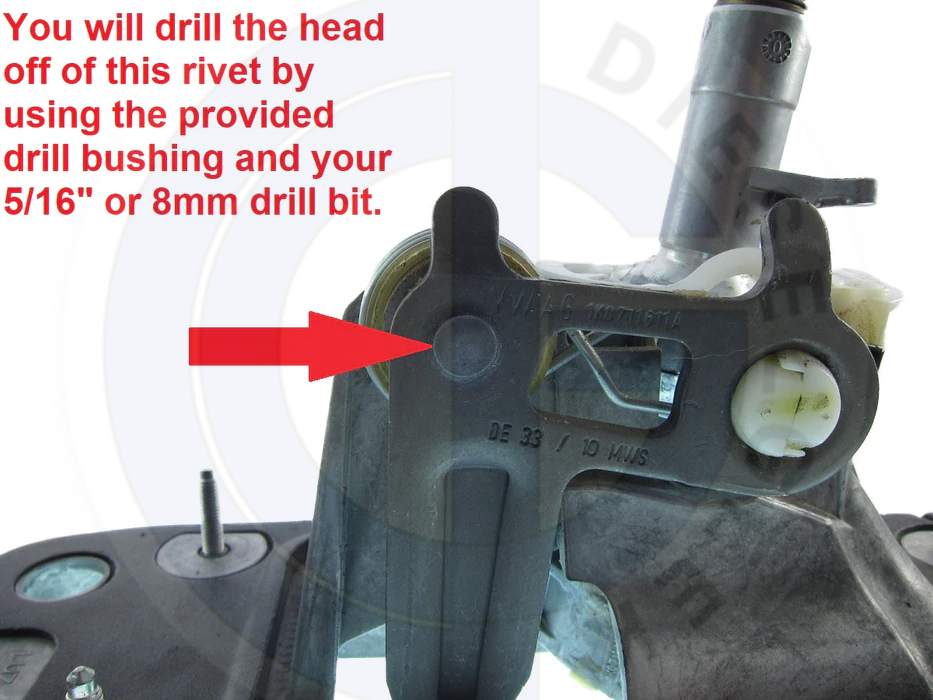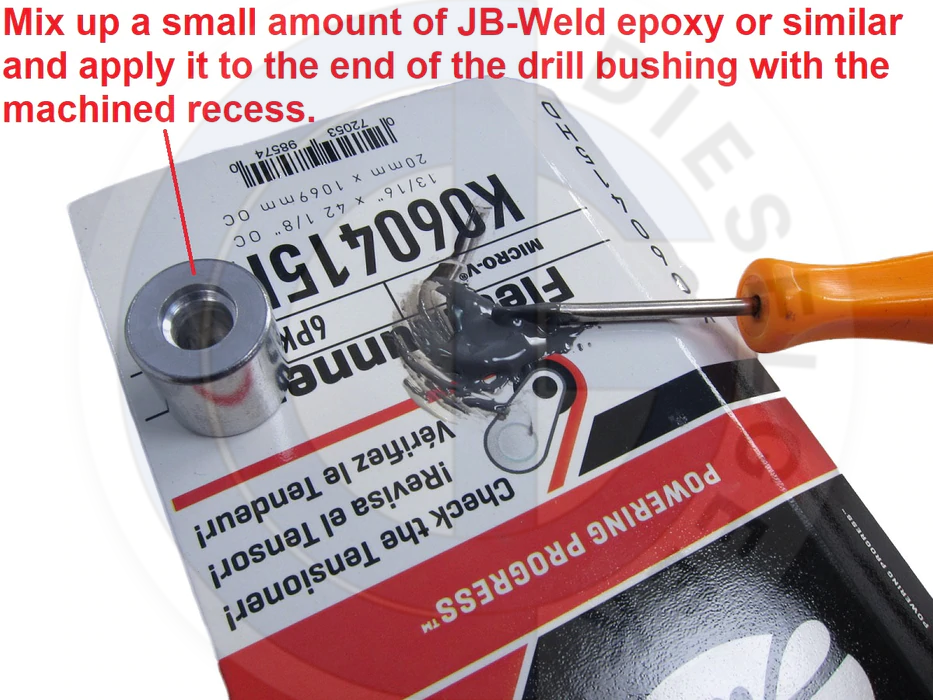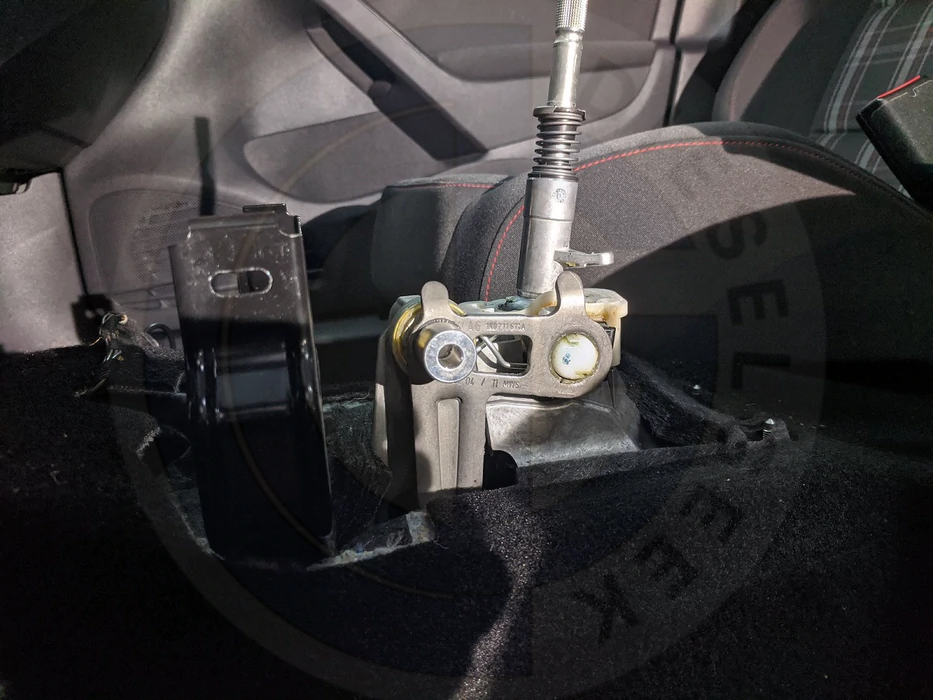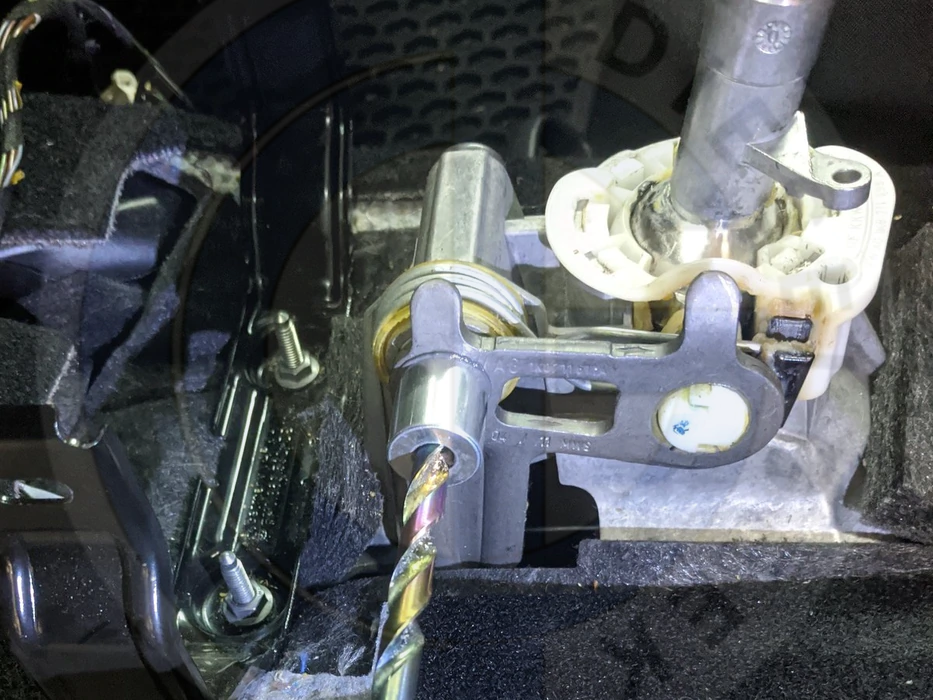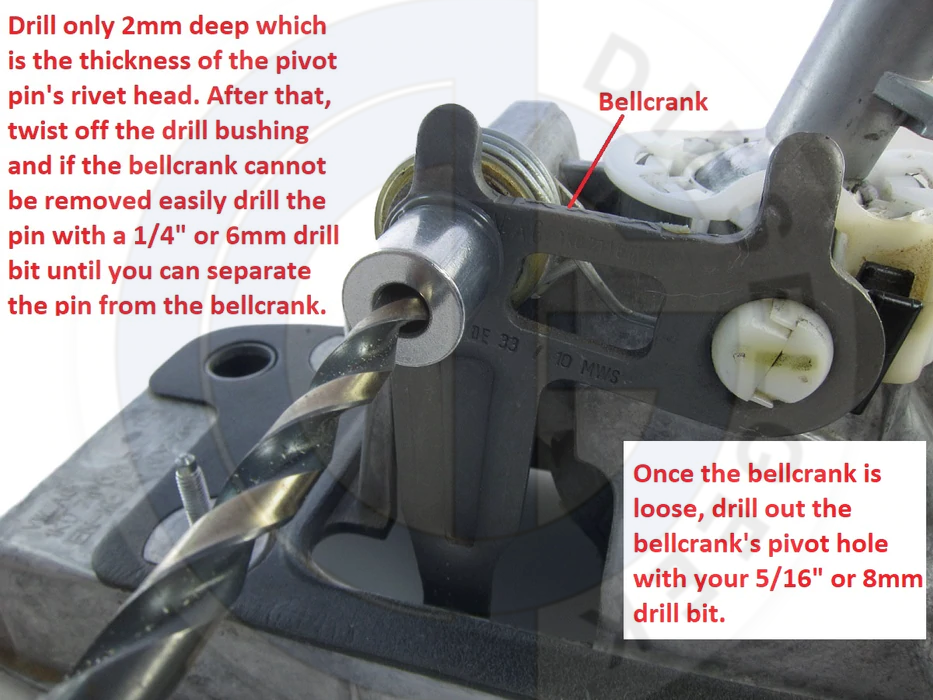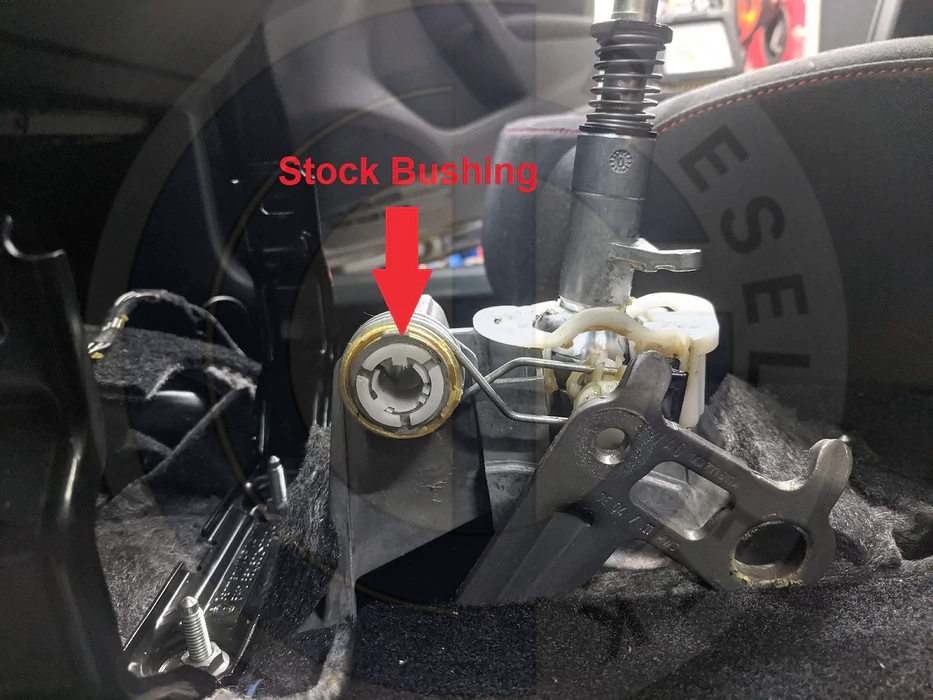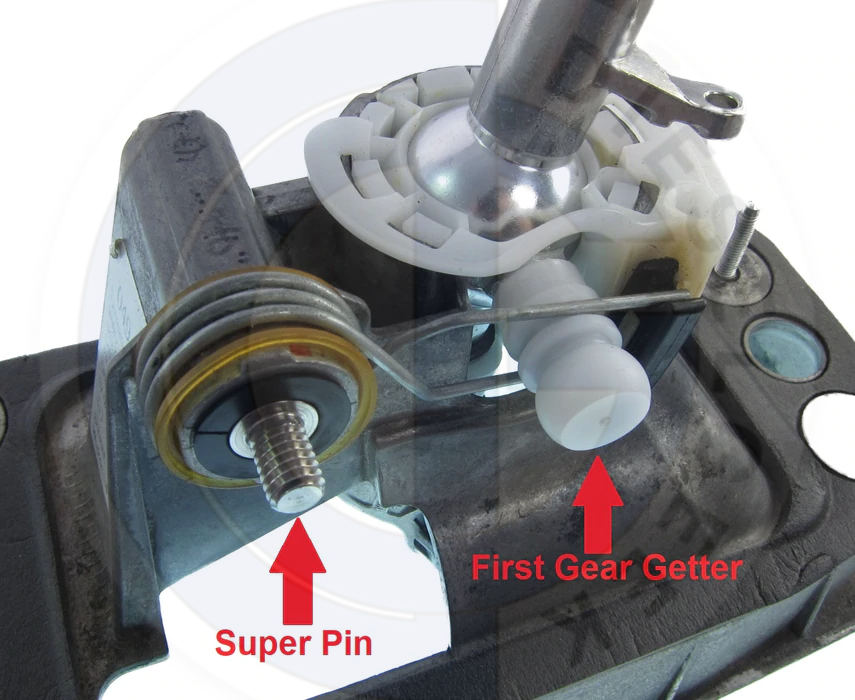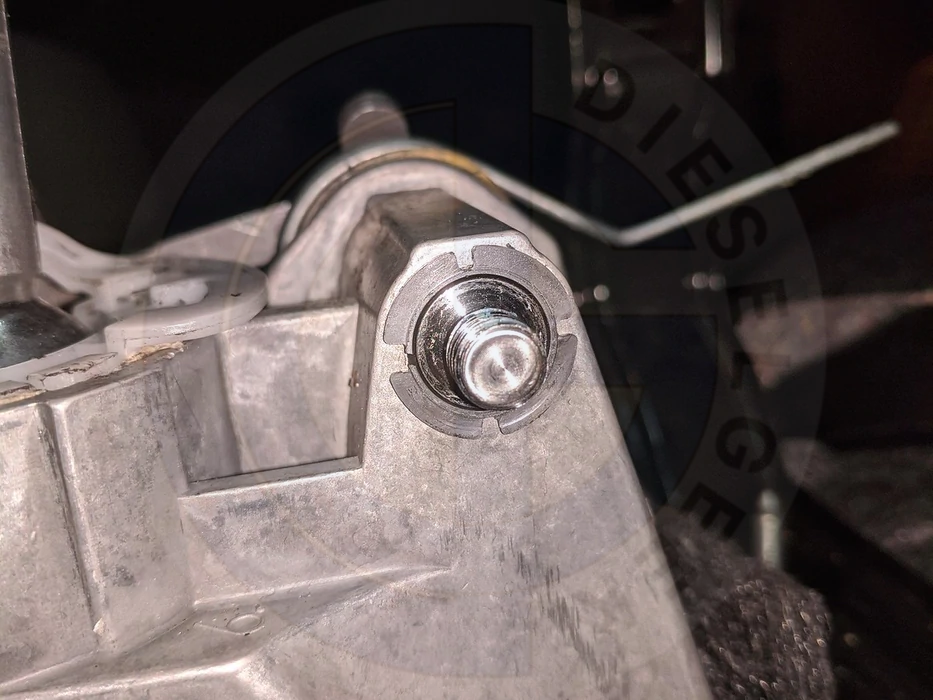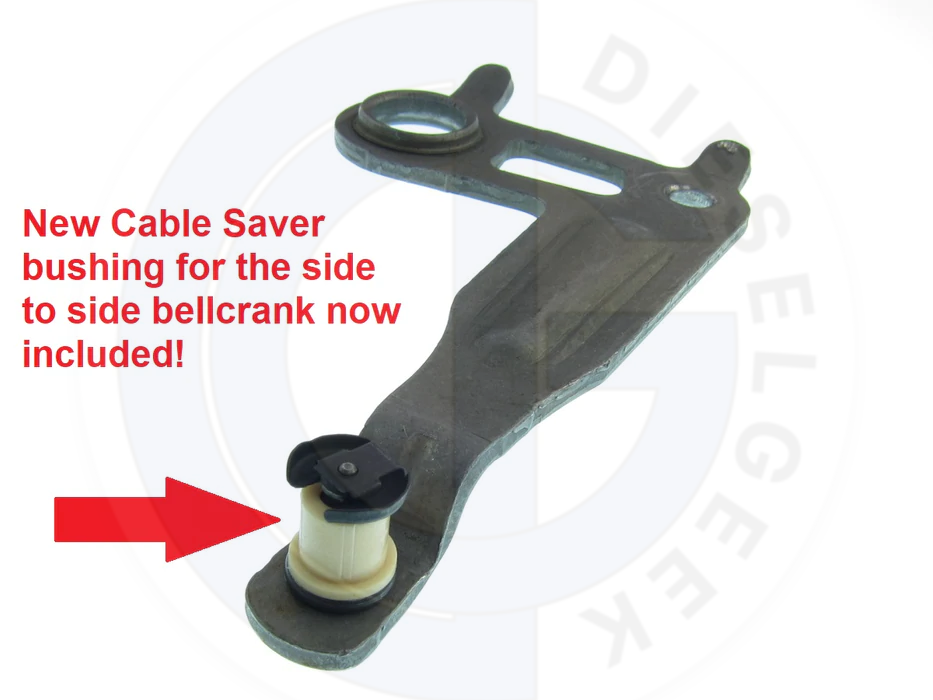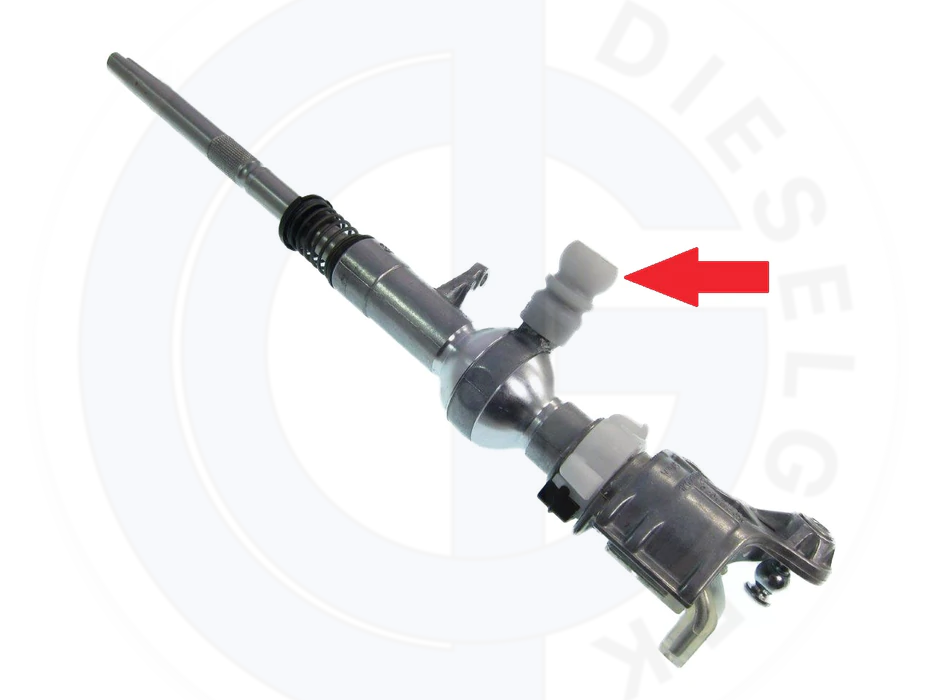 MK6 Super Pin and First Gear Getter Combo for 2008 and Newer VW and Audi
The Most Important Shifter Improvement for MK5 and MK6 Volkswagens.
We really love MK5 and MK6 Golfs and Jettas but the 2008 and newer shifter has one particular design compromise that leads to less than stellar shifting. The forward pivot pin fits poorly and is supported by a single very low quality plastic bushing. This results in side to side stick slop which reduces gate selection accuracy.  Watch the YouTube videos below. (Be sure to tap the full screen icon for more detail.) The excess movement you see in the video results in the shifter performance falling short of the rest of the car. Bring your late MK5 and MK6 shifter up to the level of the suspension, chassis, and ergonomics with the Dieselgeek Super Pin and First Gear Getter combo. Our Made in USA stainless steel Super Pin and custom bushings replace the normally non-serviceable shifter pivot pin. This set includes the First Gear Getter and the side to side Cable Saver cable end bushing as well! This kit is a must have for the ultimate shifting experience!  
Fits the following years and models with five or six speed manual transmissions:

2012 - 2014 Golf R Mk6
2008 - 2014 VW Golf and GTI (Mk5 and Mk6)
2006 - 2008 VW R32 Mk5
2008 - 2014 VW Golf and Jetta Sportwagen
2008 - 2009 VW Rabbit 
2012 - 2019 VW Beetle
2008 - 2018 VW Jetta and GLI
2008 - 2019 VW Passat and CC
2009 - 2017 VW Scirocco
2007 - 2015 VW Polo (SP fits, FGG does not)
2008 - 2016 VW Eos
2008 - 2015 VW Tiguan
2008 - 2014 Audi TT, TTS, and TTRS
2008 - 2014 Audi A1, A3, A3 Cabriolet and S3
2011 - 2014 Audi Q3 and RS Q3
2008 - 2019 Seat Toledo, Leon, Ibiza, Alhambra, Altea, and Mii
2008 - 2019 Skoda Fabia, Octavia, Roomster, and Yeti
(The list above does not include all VAG vehicles that use the riveted forward pivot pin  WHT001413 and bushing 6Q0711067A that is compatible with this kit.) 
Install:  Please note that you will need to remove the center console on your car to install this part. This is the most tedious part of the install process.  We have a video below. It's really not all that difficult. You will also need to mix up some JB-Weld or similar epoxy (not provided) to glue the provided aluminum drill bushing to the steel bellcrank to allow you to drill off and remove the original VW pivot pin rivet head. You will need a 5/16" or an 8mm drill bit. (A YouTube video detailing this are posted at the bottom of this page.) Once you drill off the pin's rivet head you might need to drill into the pin further with a 1/4" or 6mm drill bit to relieve tension of the pin on the steel bellcrank. Yes, it sounds complex but in reality it isn't too bad. Once the bellcrank is free of the pin the install of the new pin and bushings is pretty straightforward. Please note you will likely need to open up the hole in the bellcrank with your 5/16" or 8mm drill bit prior to installing it onto the Super Pin.
US shipping: We offer $7.99 FedEx 2nd Day shipping on this item if ordered alone.  Get FREE FedEx 2nd Day when you order this kit with a Super Slider and/or a SHAFT bushing set!  We offer and highly recommend $7.99 FedEx 2 Day shipping on this item alone if you are in any sort of hurry to get it.  Slower US Postal Service shipping is around $3.00.  We ship Monday through Friday from Colorado except on holidays. 
International shipping:  In these uncertain times we offer the slightly more expensive but much faster FedEx International Economy® service. FedEx will likely collect local taxes upon delivery. USPS shipping is currently suspended due to USPS system backlogs.  Also, for Canada, the new USMCA trade agreement will reduce taxes and duties on this item.
Watch this video but click on "YouTube" in the bottom right so you can see it full size!