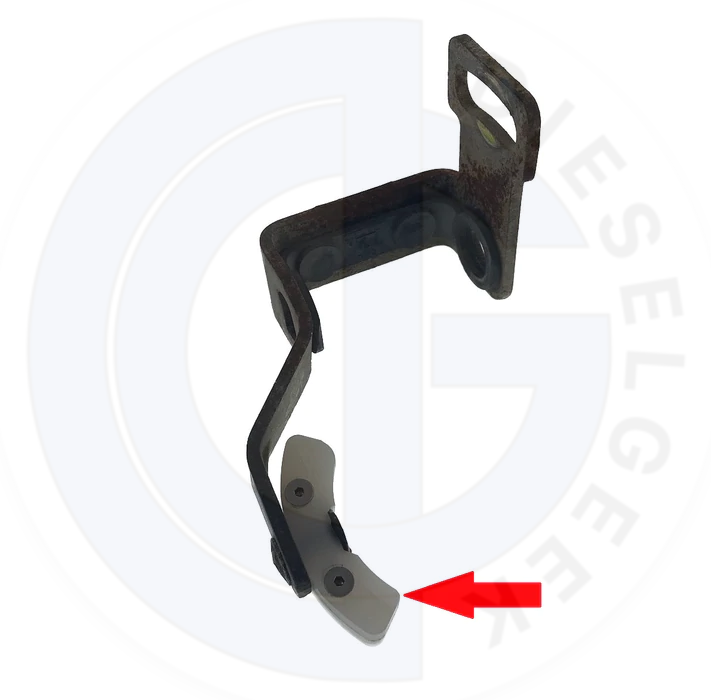 02A Super Slider for 1993-1999 VW
Volkswagen no longer produces 1J0 711 202B or 357 711 203D, the metal part shown to the left. We have made a new sliding piece to very precise dimensions to help bring A3 Jetta TDI, Jetta GLX VR6, Golf/GTI VR6, 1993-1995 Corrados and all 1993-1997 Passats back to life. Fits all 1993-1999 02A cable shift transmissions. This piece mounts onto your old steel relay lever on top of the transmission with two brass screws that we provide. The screws sit below flush so the part slides nice and smooth. You will need to remove the original black plastic sliding piece from your relay lever by cutting off the old plastic with a pair of wire cutters. Made in Texas, USA on US-made machinery.
This part will work best if used with a 1J0 711 256 plastic cable holder that is not old and worn out. 
Fits the following cars: 

1993-1995 VW Corrado 
1993-1997 VW Passat 
1993-1999 VW Jetta GLX VR6
1993-1999 VW Golf, Jetta, and Vento TDI
1993-1999 VW Golf and GTI VR6 
1998-1999 VW New Beetle
1997-1999 VW MK4 Golf, GTI and Jetta
1996-2003 VW Caddy TDI
1997-1998 Audi A3
1997-1999 Seat Ibiza TDI
1992-1999 Seat Toledo TDI
1997-1999 Seat Cordoba TDI 
1997-2000 Skoda Octavia
US shipping: Get free FedEx 2nd day shipping when you order this kit with the other two other 02A bushing sets!  We offer and highly recommend $7.99 FedEx 2 Day shipping on this item if you are in any sort of hurry to get it.  Slower US Postal Service shipping is around $3.00.  We ship Monday through Friday from Colorado except on holidays.
International shipping:  USPS shipping is currently suspended due to their system backlogs. In these uncertain times we recommend the slightly more expensive but much faster FedEx International Economy® service. FedEx will likely collect local taxes upon delivery.  Also, for Canada, the new USMCA trade agreement will reduce taxes and duties on this item.